/
OUR GUIDE TO RYOKAN & ONSEN ETIQUETTE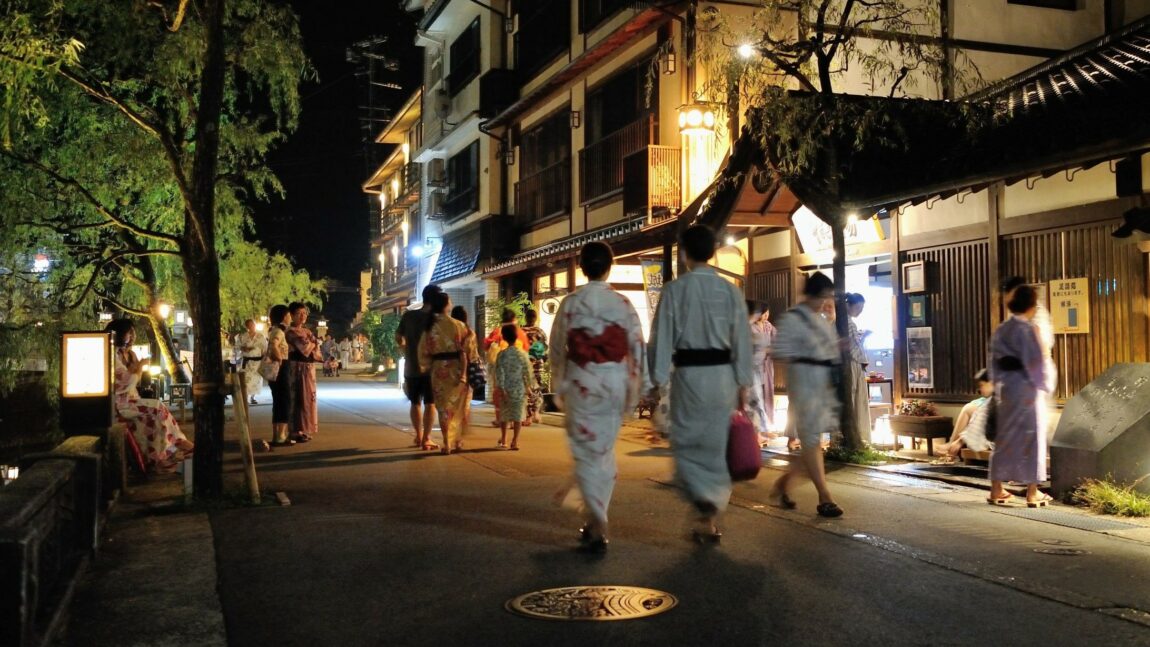 A GUIDE TO RYOKAN & ONSEN ETIQUETTE.
Autumn in Japan – November 2022.
A ryokan is a traditional Japanese inn, where visitors have the chance to explore and understand the true culture of Japan. In this type of accommodation, the walls and doors are made from rice paper, and futon beds are rolled out on the tatami floor mats when it is time for rest. The room usually contains a low table where meals are served.
A stay in a ryokan is all about experiencing the best of Japanese hospitality, unwinding from your travels and embracing the zen-like atmosphere. Guests are aware of the etiquette they should follow during their stay and you can expect to find peace and quiet in public areas as well as your room. A ryokan isn't just a place to sleep, but an experience in itself.
Ryokans were founded many centuries ago as a means to service travelers along the main highways throughout the country, and thus nowadays they are mainly found around the more regional parts of Japan, and generally cluster around rural hot spring towns.
Famous for good Japanese food and drink, relaxation and their hot spas, a stay at a traditional ryokan is an authentic Japanese experience not to be missed.
So – what of the etiquette?
– SHOES OFF: Upon entering a ryokan you are required to take off your shoes and don the slippers provided at the genkan, the traditional entryway, before stepping up into the inn proper. It's considered very dirty and offensive to fail to take your shoes off beforehand. And turn your shoes, facing the toes out towards the door.
– SLIPPERS OFF: Bedrooms in ryokans have tatami matting on the floor; never walk on it in shoes or slippers, just socks or bare feet. This is considered just as offensive and unclean as wearing your shoes upon entering the inn. There are separate slippers that are designated for the bathroom, they can be found at the restroom entrance. Do not wear the restroom slippers outside of the restrooms.
– DAY & NIGHT: Rooms are set for day and night time use, with a low table and zaisu (a chair with no legs) placed in the middle of the room during the day, and a comfy futon laid out for sleeping on at night. You'll have a small grain-filled pillow. The maid will arrive in the morning to bring you breakfast and pack up your futon to rearrange the room for the day setting.
– DRESS CODE: Traditional yukata are provided in your room; you can wear them in lieu of clothing while you are in residence, to and from the baths and to breakfast and dinner. The yukata is an ancient custom, and thus there is a process in being able to put it on properly. When putting on your yukata, the left side must always fold over the right side, otherwise, if you place the right side over the left, you will look like how they dress their deceased. The sash that comes with the robe should be wrapped two or three times around the torso, with women's around the waist. It should be finished off with a bow, either on the front or the back. And keep the yukata modest. The top should be closed tightly around the chest and neck.
– PEACE & QUIET: Treat your stay in a ryokan similar to the way you'd behave at a health retreat. Most people are there to enjoy the peace and embrace the zen. Try to talk quietly and move thoughtfully around your room and within the inn itself to ensure you don't disturb the other guests.
– TIME WISE: Dinner time usually occurs around 6:00pm. Punctuality is a relevant aspect of Japanese Culture and is considered a sign of respect. At ryokans, it is a tradition to serve a delicately prepared, intricately presented kaiseki, which is a multi-course meal. Sometimes, Chefs who have been in the profession for an extensive amount of time are hired to put these exquisite meals together, and a painstaking amount of time goes into it. The entire dining method is an experience in itself, and it's one that you'll be kicking yourself if you miss out on.
– LUGGAGE: In most ryokans, it is frowned upon to roll your luggage throughout the establishment, especially in the guest rooms which will have delicate tatami mats on the floor. For the most part, room attendants will carry your luggage to your rooms to avoid making noise, and will lay your luggage in the designated storage space for you. When leaving, do not roll it across the mat.
– FUTON BEDDING: Futon bedding is probably one of the most generic things that most visitors will associate with ryokan. Whilst the thought of replacing a bed with a soft mattress on the floor might make some people uneasy, rest assured, these Japanese futons are a thing of magic. Super fluffy, super soft, thick enough for you to dream deeply and sleep in, yet thin enough to be able to set up quickly and efficiently. With the bedding situation in ryokans, the room attendants will set these up for you whilst you're out. If you're staying over a few nights, your futon bedding will be packed up and the room tidied whilst you're out having breakfast and set out once again after dinner.
– BEDTIME: Whilst there are no hard and set rules about bedtimes across ryokans, many accommodations will impose a 'no-noise' deadline where all guests are expected to significantly quieten down and even retire for the night. This can be expected to be around the 10:00 pm mark. 
– CHECKING OUT: When checking out of a ryokan, it is customary to set things back where you found them, from your yukata to the green tea provided for the room. As for your futon, simply do a basic fold and leave it on the floor, as the room attendants will get to get to them soon after. Someone may have already gotten to them whilst you're at breakfast. As with checking-in, don't roll your luggage across the tatami mat floor, as it is fragile and delicate.
– THANKYOU: Say "thank you" (Arigato gozaimasu) in Japanese, bow and be polite. 
ONSEN & BATHING ETIQUETTE IN RYOKANS.
– One of the main reasons for a stay at a ryokan is to experience a soak in a Japanese bathtub. And there is an etiquette for using an onsen, and you really can't be forgiven for not respecting them just because you are a tourist. Most onsens will have a small "how-to" sign at the entrance, but just in case, here is a low down.
Baths are both communal and segregated so check your shyness at the door (along with your clothes) and wash thoroughly before entering the bath itself. There will be wash buckets with soap and shampoo to use beforehand; rinse off all soap before getting into the bathtub. When you're ready to get out you can change into a yukata (the cotton kimono that you will need to bring with you from your room).
In traditional Japanese culture, swimwear is disregarded when entering an onsen. Besides the historical significance of going in naked in the hot springs, it is also the most hygienic practice to prevent any fibres or bacteria from contaminating the waters, especially when it comes to public baths where people would soak at the same time. You do not swim in the baths–no matter how tempting it is. Onsen baths are meant to be a place of relaxation for all guests and it is beneficial for everyone to consider other guests' experiences, especially in public baths. 
So when visiting an onsen you must enter the water naked. It is customary to keep your towel on your head and not allow your hair to touch the water. If your towel slips into the water, remove it immediately and wring it outside the bath, NEVER in the hot springs.
Bathing has long been one of the luxuries of Japanese life – a tradition stretching back hundreds of years to a time when Christians considered cleanliness sinful (one of the main reasons that Christianity never really caught on in Japan) – and it's always been a social activity. After a long day of sightseeing, nothing beats soaking in a Japanese onsen. 
KAISEKI & TABLE MANNERS:
– Japanese table manners while dining on traditional Japanese cuisine has actually acquired a UNESCO Intangible Cultural Heritage status. The details may take a little more time and effort to master but learning some basics can help you appreciate the beauty of the practice. As ryokans are known to serve their guest's kaiseki dinners, it is polite to observe proper table manners.
When the kaiseki is first set up, the chopsticks can be found on the right edge of the tray. If the chopsticks are the kind that needs to be split, they should be held horizontally and split vertically so as to avoid any big movements that might disturb other people at the table. When putting down chopsticks after using them, they should be placed with the tips overlapping the edge of the tray to avoid any mess–this is if there isn't a chopstick rest available. Do not stab a chopstick into food, use them to move dishes closer, or hover them over the dishes–these are considered rude.  In the case of unfinished dishes, gather the food aside on the plate. When offering food to a companion, make sure it is offered from the plate and before the dish has been touched. Passing from chopstick to chopstick should also be avoided as they resemble passing the ashes of the departed. For lidded vessels, it's important to remember to let the droplets drip into the dish before raising or removing it completely to keep it clean while eating. Both hands should also be used to carefully turn over the lid and place it on the side.
It's also mindful to remember that when the dishes are served separately, they should be consumed in the order that they were presented.
And a ryokan stay isn't complete without waking up to have a traditional Japanese breakfast. Typically, breakfast is composed of miso soup, fish, rice, vegetables and tsukemono, which literally translates to "pickled things", and is served the same way a kaiseki dinner is, usually after a soak in the hot spring bath or after waking up.
We're itching to reconnect with the world.  I for one cannot wait to return to Japan in November. It is going to be one hell of a trip!
So come join us…x
*See details below for how…
---
---

SO How do I join??
Easy!
Just email me for full itinerary and details at [email protected], OR have a look via the Tour Link on the website.
OR: sign up on our new REGISTER NOW page so we can also send you details of not only Japan, but other 2022 & 2023 trips.
Stay curious everyone – and see you all somewhere amazing in 2022 or 2023!
Jemma and the Mai Journeys team..
---

OUR COVID PROMISE & BOOKING WITH CONFIDENCE. 

We need to keep you safe and look after your interests when booking and travelling with us.
To make sure we keep you safe and comply with Covid requirements we only work with suppliers who have Covid safe plans.
With regards to payments, if, due to Covid, we need to postpone a tour and we have received your deposit but not passed on payment to our suppliers, you can choose to postpone with the tour date change, receive a credit note or receive a refund of your deposit paid.
If we have paid deposits/final payments to suppliers which cannot be returned, and we have to postpone due to Covid lockdowns, we have agreements in place that ensure we can move to an alternative dates.  Please check our booking terms by tour, and standard terms and conditions, when you are filling out your booking form for full details.
If you have any questions, or any concerns, please reach out and talk to us. Our policies will continue to evolve as time goes on and as we continue to monitor local health recommendations, but what won't change is our commitment to your incredible future journeys with Mai Journeys and our amazing Partners.
Please have a scan of our COVID19 page for any / all updates.